VPN Service – Overview
The VPN Service creates a secure tunnel from your computer, authenticated by, authorized by, and controlled through the Remote Service system. It connects your computer to the machine with which you want to, and have permission to remotely access. It uses TLS / SSL based, state of the art VPN technology to make your Remote Service session secure and private. The access and the authorization settings of users are defined by your Remote Services system administrator according to the security policies of your organization. For more information, see the FAQ below.
Installing the VPN Service
The installation process may be started by clicking the Install now link in the pop-up window. See step-by-step instructions for more details.
Step-by-step instructions to install the VPN Service
The installation setup wizard will guide you through the process of installing the software.
Welcome to the Setup Wizard screen. Click Next
Accept default Installation Folder or enter your own; we recommend allowing the service to be used by Everyone. Click Next
Confirm installation. Click Next
Installation complete. Click Close to exit.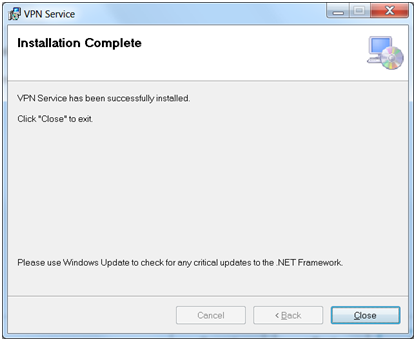 Once installed, the VPN Service should start. Its circular ball-shaped icon will be added to the system tray in your computer's Windows desktop Taskbar.

Hover your mouse over the VPN Service icon in the Taskbar system tray to see information about the machine to which you are connected.


Administrative Access Requirements for VPN Service installation
You must have administrative access authority on your computer to install the software. If the VPN Service is having trouble with completing its installation, the most common reason for this is insufficient administration authority for the user who is attempting to install the VPN Service on their computer. Contact your company's IT department or Systems Administrator for help.
VPN connection status colors
The ball colors in the taskbar will change to represent the status of the VPN connection.


Gray – Disconnected. There is no active connection to a machine using the VPN Service.


Yellow – In Process. The service is in process of starting or stopping a VPN connection.


Green – Connected. A VPN connection to a machine has been established.


Red – Error. The VPN connection failed and was not properly established.
Uninstalling the VPN Service
From your desktop Start menu, go to All Programs, find and open the ei3 Corporation folder, and select "Uninstall".
Note: you may need to have administrative privileges on your computer to uninstall the VPN Service.
VPN Service Troubleshooting
VPN Service troubleshooting guide is available here.
© 2019 ei3 Corporation. Content of this web page is proprietary to ei3 Corporation.