Note: Some or all of these options may not be visible to you depending on your administrator level.
In the Remote Service Platform, in the Admin > Machines > Edit Machine page (found by clicking the Edit 

icon), you may find a section titled "Machine Capabilities." Each option and their functions are described below.

Productivity Relevant: This option, if unchecked, disables all productivity-related calculations and turns off OEE. This is useful for machines which do not use OEE or other productivity calculations.
Automatic Quality: When this option is unchecked, quality can be entered manually in the Customer Portal, from the machine Dashboard. An Edit  icon will appear in the Production quadrant near the Quality production value, which will allow users to manually input a quality percentage for their machine OEE calculations. This is useful for some machines which aren't equipped with material count sensors.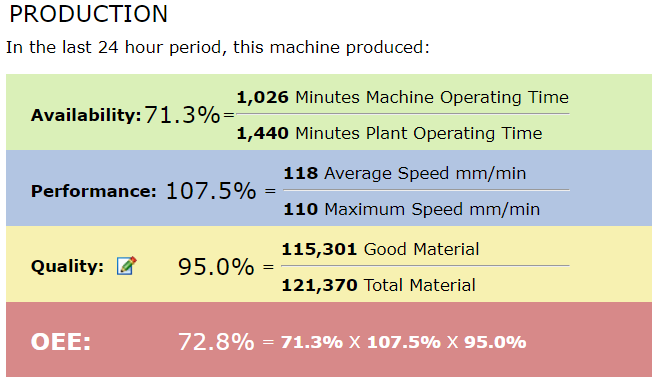 Allow Customer Remote Service: When enabled, allows any customer to create and send their own Remote Service access keys, from the Remote Service page in the Customer Portal (requires product activation).

State Monitoring: In some cases, certain machines may read state-based monitoring to detect uptime, downtime, or other machine states. Having this box checked allows state-based monitoring on a machine.
© 2020 ei3 Corporation. Content of this web page is proprietary to ei3 Corporation.