From the Remote Service Platform, select the Admin tab, and choose the Service Hours menu.

If the service office does not exist, create it by clicking the Add icon from the Action menu.

Choose the customer's Product Line, Country, and Time Zone, as well as the Start Time and End Time for the service office. Select the Days of the Week for the service office to be active, and click Save.

Make sure to check the Enabled box, or else the hours specified for the service office won't be active!
Service Hours are reliant upon the machine's product line. Make sure this is properly set!
Once the hours are set, any users who attempt to start a service session outside of the designated business hours (based on the machine's service office hours through its product line and time zone) will be denied access.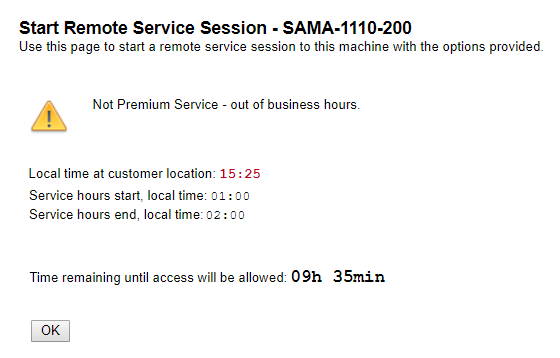 © 2023 ei3 Corporation. Content of this web page is proprietary to ei3 Corporation.