A password reset is only a few clicks away. Follow the steps below to get yourself set up with a new password.
From the Login page (Remote Service OR Customer Portal), click the Forgot Password link.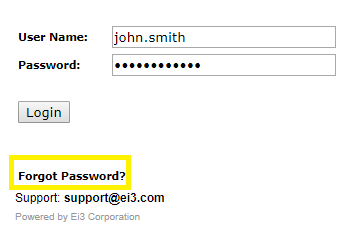 Fill out the text fields provided on the Reset Password page. You will need to provide your user name and the email address associated with your user account.

Check your email. Within a few minutes, you should receive an email with a temporary password to log you in.
If you don't see an email within a few minutes, check your spam folder.
Once logged in, you'll be required to change your password.
If you no longer have access to the email address associated with your account, contact us for assistance at e-services@ei3.com.
© 2023 ei3 Corporation. Content of this web page is proprietary to ei3 Corporation.