Third party users connect using remote service keys all the time. It's easy to set up and send a link for any user to start a secure remote service session on your machine.
Note that the user sending the key does not need to have the remote service session software installed – only the user who is doing the remote service session will need to have the software installed on their computer.
To securely send a remote service key to another user, follow the steps below. You can also learn more in this article which describes the process in more detail.
Log in to the Remote Service Platform and navigate to the Machines tab, or
Log in to the Customer Portal and navigate to the Remote Service tab.
A list of available machines should appear on the page. If the page is blank, or your machine does not appear on the list, search for it using the available search bar.
In the Actions column for the machine, click on one of the three keys provided.

In the field for E-Mail Key, enter the recipient's email address. Choose a duration for the key, and enter a password. (Remember this password and share it with the user securely).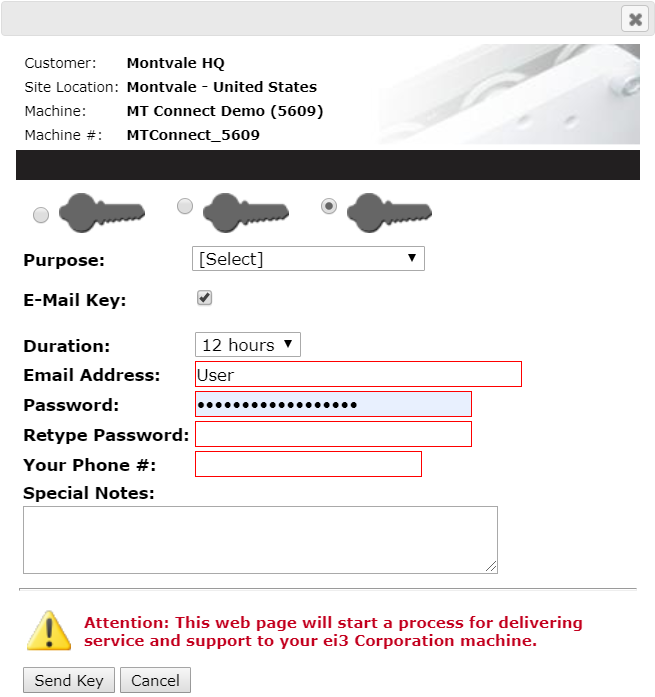 When all fields are complete, click Send Key. An email should be sent to the recipient within 10 minutes containing a link to start a secure remote service session with the selected machine.
NOTE: If the recipient does not see an email in their inbox, we recommend checking their spam folder.
© 2023 ei3 Corporation. Content of this web page is proprietary to ei3 Corporation.