Start Service
Starting a remote service session begins by clicking on one of the three available machine keys on the Machines page. Only authorized users are able to start a remote service session with a given machine. Access to the remote service function can be enabled by a customer administrator user.

Connection Dialog
Upon selecting an available key, a connection dialog is presented to the user.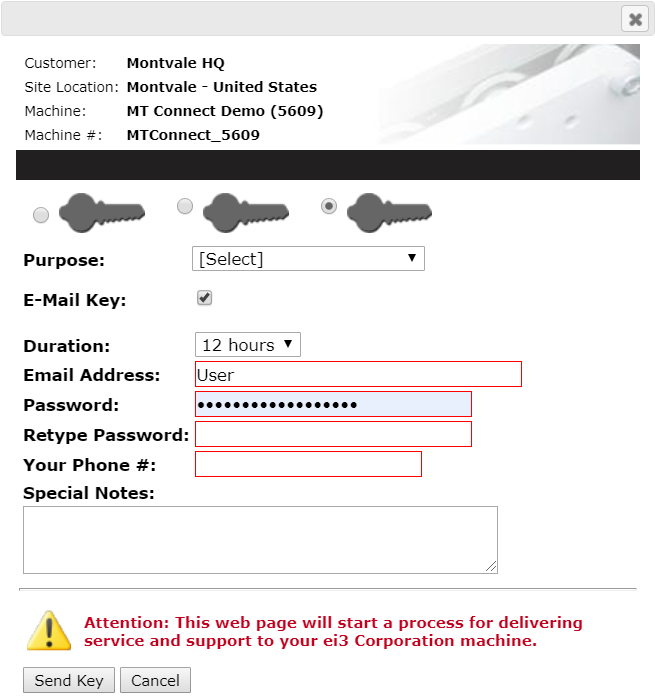 Key Selection
One of the three available (gray) keys must be selected.
Purpose
One of the available purpose choices must be selected. These include Maintenance, Operator Support, Test Remote Connection, and Troubleshooting.
E-Mail Key
If the user is requesting remote service from a third party (guest user), then the E-Mail Key option must be selected. This method allows remote service authorization to be emailed to an individual who is not a Customer Portal user.
Note that a user who is e-mailing a remote service session key does not need to have the remote service software installed. Only the third party user who is receiving the key and connecting to the machine using the service will need to have the software installed.
The following information must be provided:
Duration – The duration of the remote service authorization can be set from among the provided choices. Unless the key is revoked by an administrator, the key will remain valid for the time period selected.
E-Mail Address – The email address to whom the remote service authorization key will be sent.
Password – A password which must be used in conjunction with the remote service authorization key. The password must be input twice for verification.
Phone Number – A phone number which the remote service authorization recipient can use to obtain the required password or other assistance as required.
Special Notes – Any special notes or instructions which will be included in the remote service authorization email to the recipient.
Send Key – To complete the authorization, the Send Key button must be clicked. This option will allow a secure and unique remote service session key to be emailed to a recipient.
Create & Connect – For a direct remote service connection, simply click the Create & Connect button.
Cancel – To cancel the remote service connection or authorization, simply click the Cancel button.
Connecting – Initiating a remote service session can take up to a minute to complete. Once a session has been established, the connection status graphic at the top-right of the Customer Portal web page will turn green and animate.
While Connected – When connected to a machine, the Remote Service function in the Customer Portal will present the Preview Machine menu and pages. When the session is closed, the Machines page will once again be presented.
Disconnecting – To disconnect or end a remote service session, simply click on the Remote Service > Close menu option.
© 2023 ei3 Corporation. Content of this web page is proprietary to ei3 Corporation.