For manual job management setup see this article. If you need job management enabled on your machine, contact us for assistance.
While many prefer manual job management on their machines, it's also possible to set up automatic job management. Below are the steps needed in order to properly set up automatic job management on your machine.
Set Up Data Points and Tags
There are eight tag types used in job management. These are:
Job Name
Job Description
Product Name
Product Description
Customer Name
Customer Description
Operation Name
Operation Description
You can reference the entire list of  data points here:
The data points referenced by each job management item in list linked above:
Products: Data points 15 and 16.
Jobs: Data points 19 and 20.
Customer: Data points 21 and 22.
Operation: 32 and 33.
At the very minimum, you'll need a Job Name tag type in use on your machine data points list.
If your machine is set up with Job Management, you'll be able to go to find all the Job Management menu items listed in the Tools menu (from the Customer Portal). There are data types available for all the items listed here.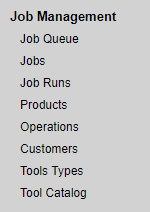 Customer, Operations, Products & Jobs each have their own name and description tag types, for a total of 8 tag types. Once the tags are defined, ei3 can set up the rest of job management process. All 8 tag types are not required – if any are missing, the system will auto-generate values as shown below:
Customer – Unknown Customer
Operation – Can be manually defined to match the machine name
Product – Unknown Product
Job – defined with time stamp of the current date and time
You can find more information on job management data points and where they are used here:
© 2023 ei3 Corporation. Content of this web page is proprietary to ei3 Corporation.