You can use XML files to easily add, edit, or remove data points on your machines.
Exporting Data Points
First, select the existing machine in ei3 from which you'd like to get the data points from. Then, go to the Admin Tools > Data Points web page in ei3 for that machine.
On the Data Points page, click the Export XML Template icon

to download to your computer the .XML file of the data points settings for that machine.
Importing Data Points
Navigate to the machine to which you want to import the data points.
On the Admin Tools > Data Points page for your target machine, click the Import XML Template icon

to download the .XML file to the machine. An Import page will display in your browser.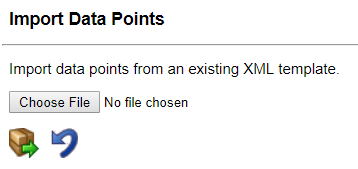 Validating, Mapping, and Updating Data Points
Choose the .XML file you've downloaded, and select the Load icon

. A Device Mapping page will display in your browser. You will also be able to choose whether to add, update, or delete the existing data points on the machine.

Add: Add only new data points to the machine. This is used when there are no existing data points yet.
Update: Update existing data points by applying changes made to them, and add new (not yet existing) data points.
Delete: Delete all existing data points and replace with the new data points.
Choose the device to which you're associating, or mapping, the imported data points. If the device isn't listed, see this article on creating machine devices, or contact us for assistance.
Click the Save icon

. A confirmation window will appear – click OK.
The main Data Points page will load, displaying a confirmation message.

By default this page will load with just the search window and no points displayed. You can use the * symbol to search for all data points. Remember to review the newly added points for accuracy.
© 2023 ei3 Corporation. Content of this web page is proprietary to ei3 Corporation.