With the recent addition of Unicode to ei3's connected services, a special font pack from Adobe must be downloaded in order to display certain PDF documents created by ei3. Upon opening a PDF which contains such characters, a user will be presented with a series of dialog messages that guide them through the font pack installation process. Once the installation is completed, such documents can be opened and rendered without issue.
Some versions of Adobe Acrobat Reader will be able to handle the new fonts without any issues. But for others if/when a PDF is opened in the Acrobat Reader program, a prompt to download an additional font package may appear.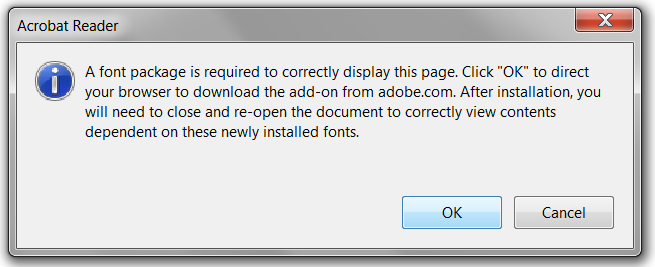 Clicking "OK" will open a browser window to download the needed add-on from Adobe directly. Once installed, the PDF file should display properly, and the missing fonts should correctly load in the file.
© 2023 ei3 Corporation. Content of this web page is proprietary to ei3 Corporation.