User Groups can provide easy and effective user management. When used properly, permissions and rules can be set for several users at once.
For instance, if you want to make it possible to track downtime on several cutting machines from one user account, you could:
Create a user called Cutter users.
Make a user group called Cutters, and assign it permissions for all cutting machines at your facility.
Check the box to assign the group Cutting Machines to those users.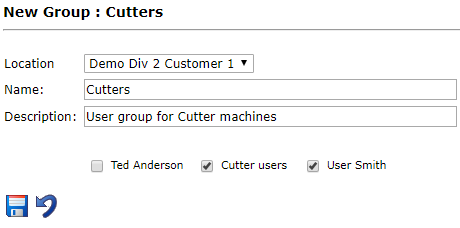 Or, if you want to set a group of users to have permissions for all cutter machines at your facility, you can:
Create all the necessary users, then navigate to the User Groups page.
Create a new group called Cutter users.
Assign the users you'd like to be a part of the newly created group.
Click on the icon to set group permissions, and assign all permissions to the necessary machines.
These are just a couple examples of how to use the User Groups feature to its fullest capabilities.
© 2023 ei3 Corporation. Content of this web page is proprietary to ei3 Corporation.