Now that you have ei3 installed and running on your machine, you are ready to put ei3 to work and boost productivity. Here's how to set up some of the most popular features that are the 'low hanging fruits', that quickly show the benefit of ei3.
How to
Every machine that has productivity enabled is tracked for OEE and downtime. Machine OEE is calculated automatically by algorithms that evaluate availability, production rates, and quality. This productivity information can be automatically compiled into a report that is sent to a list of email addresses.
The reports are already configured to be presented to your shop floor team. They can be printed and placed on your Lean Information Visual board by the entrance or put up on a big screen for your end of shift review meeting. More information about the available reports can be viewed here.
Configuring reports for automated delivery by email is a part of ei3's standard report configuration tool. You can learn how to set that up in detail here.
Now you have a beautiful report ready to be displayed on your Lean board.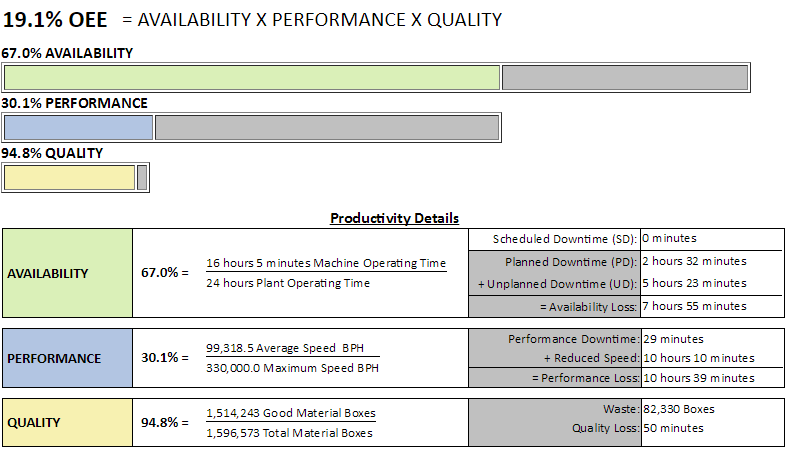 Contact us at care@ei3.com if you need help or assistance setting up this report.
© 2023 ei3 Corporation. Content of this web page is proprietary to ei3 Corporation.
Sometimes just knowing if a machine is running or not can make the difference between a good or bad day. You probably don't want lots of messages – but a simple automatic text telling you when a machine is stopped can be a big help. Here's how to do that.
Every machine has one data point that is defined as an indicator of productivity. If that point is below a threshold then the machine is considered to be "down". ei3 analytics process that point automatically to decide if the machine is up or down and when it's down, there's a downtime clock that keeps track of how long it's been down.
An alert can be configured to go off when the amount of this down time reaches a limit – in fact many alerts can be created to alert ever-higher people on your team as the amount of down time increases. To set up these alerts you need to have site administrator permission level in ei3. If you are not a site admin, then please ask your site admin to do this for you:
Now you have a working downtime alert. Multiple alerts can be made for the same downtime, and you can create an escalation strategy that would use these alerts to bring different people into the loop as the downtime gets longer and longer.
© 2023 ei3 Corporation. Content of this web page is proprietary to ei3 Corporation.
Machine operators need to see what's going on. And their needs might change depending on what product, recipe or operation they are working on. How to display information in a way that meets this complex need?
The ei3 Data Dashboard is a flexible tool that you can use to set up a custom board without any programming. It uses a drag and drop method that everyone can use – no code required!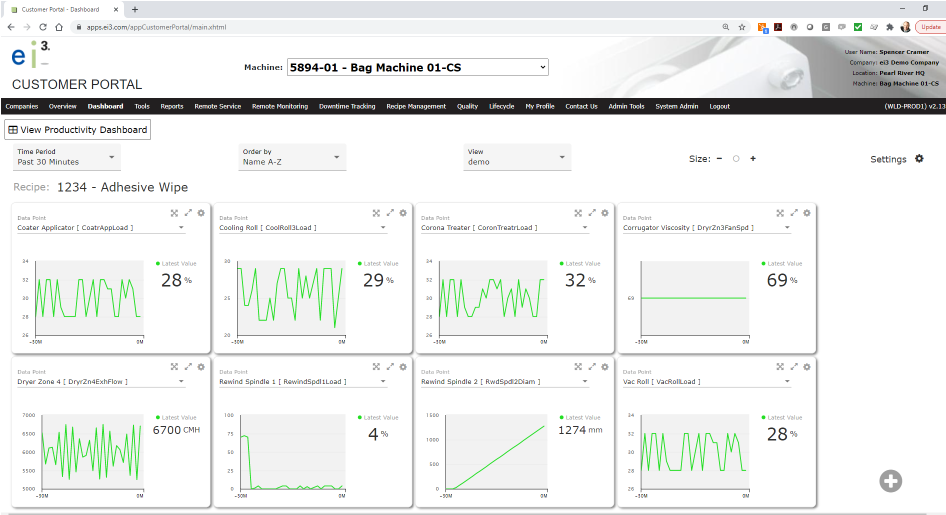 Here's how to set this up for your machine:
Pick a group of points
Give it a name
Come back to it again in the future
© 2023 ei3 Corporation. Content of this web page is proprietary to ei3 Corporation.
The first step towards reducing machine downtime is to have an automatic capture of machine downtime with an operator-assisted method to assign the reasons. This might seem like a complicated requirement but with ei3 it's already set up and waiting to go.
First you need to define codes and categories. Getting this set up can take some effort but that effort pays great dividends in the short term.
Set up downtime codes and categories
Add visual icons
Assign the downtime reasons to your machine
Train your operator teams to use a visual assignment tool
When the downtime codes are routinely entered, it becomes progressively more clear which reasons can be reduced or controlled. With this information it's easier to plan improvement projects and measure their ROIs.
© 2023 ei3 Corporation. Content of this web page is proprietary to ei3 Corporation.
There are many more things you can do with ei3. If you have an idea for something to be added to this list, please send us a note to care@ei3.com.
© 2023 ei3 Corporation. Content of this web page is proprietary to ei3 Corporation.